All Inclusive
Iberostar Playa Mita - Punta Mita, Riviera Nayarit - All Inclusive
IBEROSTAR Playa Mita, a 5-star Premium Gold hotel located in Punta Mita, Riviera Nayarit, offers a relaxing and all-inclusive atmosphere complete with mouthwatering international dishes and endless activities for guests of all ages. Standing tall in beautiful Punta Mita, on Mexico's Pacific coast, IBEROSTAR Playa Mita is conveniently located 25 miles from Puerto Vallarta International Airport.
Family Facilities. Guests of all ages will enjoy the many amenities provided by IBEROSTAR Playa Mita, from luxurious accommodations to a Splash Park and a Disco, everyone can enjoy their all-inclusive stay. Facilities also include a shopping area, gym, library, spa and even tennis courts.
Exquisite Cuisine. At IBEROSTAR Playa Mita, guests can choose from endless culinary options and delectable dishes offered at the hotel's four specialty restaurants and Nopal Buffet. These restaurants are inspired by international cuisine and famous Mexican seafood dishes, like shrimp meatballs, aguachile, shrimp tamales, and freshly caught fish on the grill. Whether day or night, guests will also find 8 available bars around the hotel serving assorted snacks, local and international drinks.
Sports. Guests who wish to stay active will enjoy unlimited sports and amenities provided by IBEROSTAR Playa Mita. The hotel also features the Litibu Golf Club, one of the top golf courses in Riviera Nayarit, which combines breathtaking oceanfront views and green surroundings extending more than 362 yards. Many of the activities provided at the hotel are already included in your stay like kayaking, water aerobics, beach volleyball, a fully equipped gym, ping pong, non-motorized watersports and even windsurfing.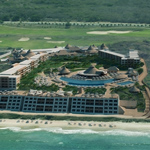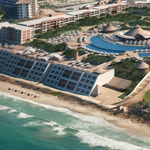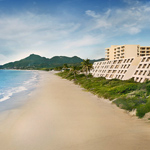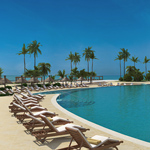 Entertainment
The infinite selection of entertainment at IBEROSTAR Playa Mita will delight guests of all ages. This all-inclusive, 5-star hotel allows children to enjoy the many activities offered at the Kids Club and Kids Splash Park. Adults can also have a blast dancing the night away at the club or enjoy some of the live nightly performances the hotel has to offer.
Spa Sensations:
Enjoy an exclusive treatment provided by IBEROSTAR Playa Mita's SPA Sensations. Here you will find private treatment rooms, a beauty salon, a relaxation room, an isolated garden.
Kids Club
The little ones will enjoy a vacation like never before. Children of all ages can enjoy making friends and swimming around IBEROSTAR Playa Mita's Kids Splash Park. If that's not enough, organized activities are held every day at the Kids Club and Teens Club.
Nightly Fun
After some much needed relaxation, adults can enjoy the festive nighttime activities organized by the hotel. Among them are the live performances every evening at the theatre and the nightclub for everyone ages 18 or over.
Guests staying at IBEROSTAR Playa Mita will enjoy an infinite selection of sports and activities available throughout the hotel, among them a stunning infinity pool and a fully equipped gym, perfect for guests who wish to stay active and in-shape during their stay in Mexico.
Sports
Golf
Designed by professional golfer Greg Norman and inaugurated in 2010, the Litibu Golf Course is perfect for guests who wish to enjoy tee-time the way it was meant to be. The-onsite Litibu Golf Course includes a Pro Shop, Snack Bar, practice tee, driving range and rentals of carts, clubs, and equipment.
Watersports
Guests can scuba dive, kayak, windsurf and parasail during their visit at the all-inclusive IBEROSTAR Playa Mita. Non-motorized sports are included and motorized sports, like scuba diving, can be enjoyed for a fee that will definitely be worth every penny.
On-Site Activities
This 5-star hotel allows guests to comfortably enjoy a wide range of sports and leisure. Activities include aerobics, tennis, beach volleyball, and much more. The hotel also offers a fully equipped gym for fitness lovers